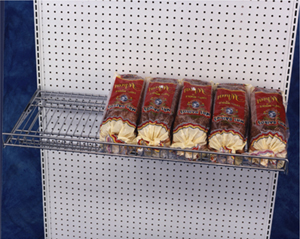 P/N MBWS
Heavy gauge steel wire construction, powder coated for long life and extra wear. 21/4" lip in front keeps product in place. Shelf snaps into brackets for quick installation. Brackets not included and should be same finish as Bakery Wire Shelf.
Shelf may be installed on brackets with the lip facing to the front or the rear.
---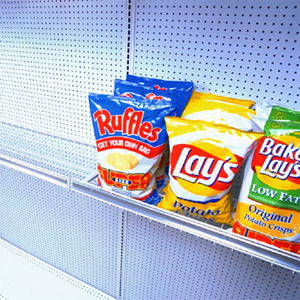 ---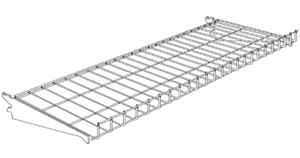 ---

The Wire Bed Wall Shelf provides the ideal way to display linens. Shelf may be displayed flat or at a 15 degree downslant. The front lip is 5" high. The shelf is available in either 36" or 48" widths and depths of 22", 30", 36" and 42".
Load capacity is 50 lbs.
WBWS
---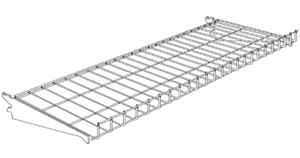 This versatile wire shelf is used for lightweight merchandising of items such as small boxes of candy, gum, etc. With flat or a 15 degree down tilt bracket position, and a 2" high front lip. It allows various product presentations.
the wire candy shelf is also suitable for other uses. Wires are spaced 1 1/2" OC. The optimal tag molding accepts 1 1/4" tags. Load capacity of 30 lbs.