Panasonic Business Phone Equipment
E System Sales, Inc provides two Panasonic Business Phone Equipment available for small to mid size business with the needs of less than 12 lines X 24 phones with all of the business phone system features like caller ID, call transfer, voicemail, call hold, music on hold, intercom, public address, do not disturb, speed dial, conference call, microphone mute, redial and more.

Starter system bundle with 3 black display phones $729.00
The Panasonic KX-TA824 Panasonic Business Phone Equipment is an affordable phone system for small business that starts out at three lines in X eight phones with major expansion to eight lines in X 24 phones with cordless phones available.
---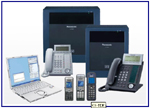 Panasonic KX-TDE100/200/600 Phone System can provide up to 1000 phones or more with many advanced features available.
---

Panasonic cordless phones available for all Panasonic KX-T phone systems. The Panasonic KX-T7896 cordless phone uses a proprietary phone jack and uses a unique cordless protocol for cordless coverage in larger areas.

The Panasonic KX-TDA50 is more advanced business phones for small to mid size business phone system that starts out at an initial configuration of four lines in X eight digital phones with expansion to 12 lines in X 24 corded phones X 24 cordless phones.
The Panasonic KX-TDA50 has an advanced cordless phone system for cordless phone coverage in large buildings, large areas, or business with multiple buildings with the use of what are know as cordless phone cell stations. Up to 8 cell stations can be strategically placed in a large building or multiple buildings.
The Panasonic KX-TDA50 also has a VoIP feature that allows business to have phones at offsite locations or offices that operate over a good existing internet connection.
---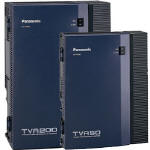 Panasonic provides two different sizes of voicemail for the Panasonic Business Phone Systems with the KX-TVA50 voicemail system being the smallest is the most cost effective voicemail system for small to mid size Panasonic Business Phone Systems.