Wall Section
To create a Wall Aisle of Used Gondola Shelving as pictured in the images on the top of this page you will use the Wall Section pieces below to configure your aisle length as the sections are available in either 3 or 4 foot sections and your will need an end to complete your aisle of Wall Aisle.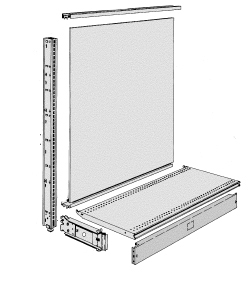 A Wall Section or of used gondola shelving includes 1 lower shelf, 1 upright, 1 base shoe, 1 back, 1 kick-plate, 1 upper spanner, 1 center spanner, and 1 lower spanner.
Wall End
A Wall End is used to complete a Wall Aisle of Used Gondola Shelving. For example a 16' Wall Aisle will consist of 4 Wall Gondola Sections and 1 Wall End to complete the Aisle.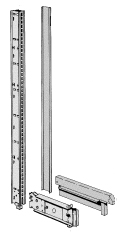 A Wall End includes 1 upright and 1 base shoe.