E System Sales, Inc. provides two types of what is called Gondola Shelving. One is the Double Sided Shelving and the other is the single sided wall shelving that can be used for retail & industrial purposes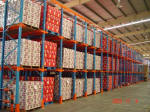 Pallet Racking is industrial racking mainly used in a large warehouse environment with heavy or mass quantities of product or merchandise. Available in sizes of up 144" high X 48" deep.

Gondola Industrial Racking is a modified racking system that connects to an existing Gondola Upright and Gondola lower shelf. Gondola Steel Racking is used for storage above the merchandising Gondola Steel Shelving.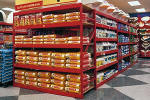 Wide Span racking works well for displaying Automotive Batteries, Automotive Tires, Automotive Oil, Pet Food, Tac Supplies for Farm Supplies, and a lot of heavier items or products with special display merchandising needs.
Configured using affordable Madix Wide Span Racking can be configured to merchandise & store Batteries, Oil, Tires & More in a gravity feed configuration.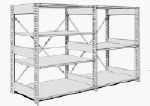 Steel Storage Shelving for most storage needs such as retail back room storage and file storage for offices.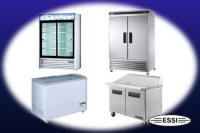 ESSI has a comlete line of Refrigerator Systems to meet the needs of most any small to large restaurant application.
Gondola Shelving Dividers available for Madix, Lozier, and Streeter Gondolas.
Wall Gondola Shelving is a half od single sided section of shelving that is generally placed up against a wall.
Slatwall Shelves available in either Black or White, in widths of 24" and 48" wide, and in a depth of 13".
Here is how we have mad it EZ to purchase Industrial Shelving. All we need to know is what type of Industrial Shelving you need, the length of you aisle, the height, and the depth of you aisle and we can quickly & accurately quote you on your Industrial Shelving needs.

E System Sales, Inc. has been providing business in the US with all types of merchandising, storage racking and shelving needs for many years now.

All new racking and shelving is manufactured affordably by Madix, Inc right here in USA. All work benches and lockers manufactured by Tennsco right here in the USA.